The Best Time to Visit Switzerland
When it comes to breathtaking landscapes and heart-racing adventures, Switzerland remains an unbeatable destination. With an array of activities tailored for each season, you'll never experience a dull moment in this captivating nation. The key is to plan your journey in accordance with your personal preferences and desired activities.
Dominated by a moderate continental climate, Switzerland's temperature range is predictable, save for its mountainous regions that lean towards colder temperatures. The distinction between seasons is marked, giving each part of the year a unique ambiance. Summers can sizzle up to 30°C, especially in the flat terrains or plateaus where major cities nestle. At the same time, winters bring the beauty of snow with near-freezing temperatures.
Choosing the Perfect Time to Visit Switzerland
Visiting Switzerland's picturesque towns and villages offers a mesmerizing experience year-round. However, specific activities do demand precise timing:
Hiking Bliss in Switzerland
Switzerland's mesmerizing trails have lured countless nature enthusiasts. And why not? With unparalleled natural beauty, hiking here can be a dream come true. The ideal hiking window spans mid-June to late September, offering varying experiences. In contrast, June might surprise you with residual snow at higher altitudes. July and August promise to flourish wildflowers amidst the valleys. By September, you can enjoy the serenity with fewer tourists around.
Alpine Skiing Adventures
The Swiss Alps, with their majestic peaks and snow-laden slopes, are nothing short of a winter wonderland. For those seeking skiing adventures, October to March is the golden period. As October progresses, the higher terrains get their first touch of snow. By December, the ski resorts bustle with activity, making it the prime month for skiing enthusiasts. However, remember avalanche alerts in January and February, even as you enjoy pristine snow.
Summer vs. Winter in Switzerland
Summers in Switzerland open a treasure trove of activities—hiking, boating, paragliding, or simply enjoying scenic train journeys. The country's abundant lakes in the valleys and atop mountains add to the charm.
On the flip side, winters predominantly revolve around snow activities, from skiing to snowboarding, with an influx of tourists from neighboring countries.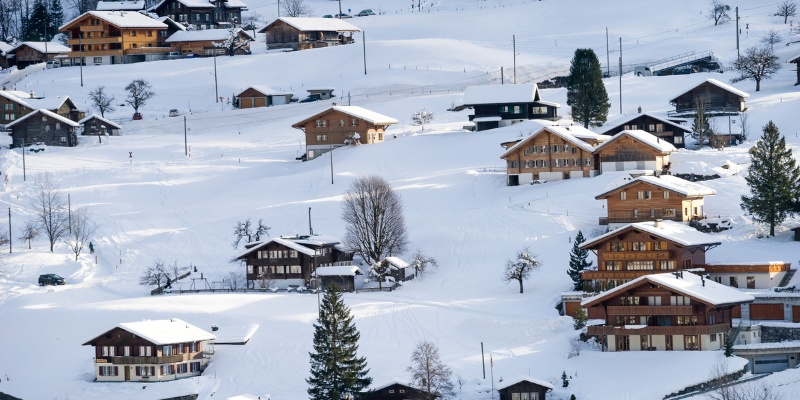 Switzerland's Tourist Seasons
July and August, being the hottest, mark the peak summer tourist season. This period sees a surge in hiking enthusiasts aiming for higher altitudes to evade city heat. Conversely, January and February witness a winter rush, even in the lower valleys, thanks to the generous snowfall.
In contrast, the April and the October-November windows fall under the low-tourist seasons. The transitional weather conditions during these months render most skiing and hiking spots inaccessible.
A Quieter Switzerland
Late fall in Switzerland is synonymous with nature's bounty and age-old traditions. Heavy with ripe grapes, the grapevines are harvested, promising a fresh batch of the country's celebrated wines. In a timeless ritual, the cows, adorned with flowers and bells, are led down the mountainsides to warmer terrains, their journey often accompanied by village festivities that celebrate the changing seasons.
October often starts gently with mild temperatures and clear skies, offering breathtaking panoramas of golden forests against a backdrop of snow-capped peaks. These sunny days are a boon for travelers seeking a quieter yet equally beautiful Swiss experience.
However, as November ushers in, the days grow shorter and cooler. A crispness fills the air as a prelude to the winter's embrace. The changing weather also brings a cocooning vibe, where cozying up in a Swiss chalet with a cup of hot cocoa feels like a perfect evening.
One distinct advantage of traveling during these months is the reduced crowd. As many tourists wrap up their summer adventures and others wait for winter's thrill, October and November provide a rare opportunity to explore Switzerland's gems at a more relaxed pace.
However, potential travelers should note that this calmness also comes with hibernation. Many hotels, restaurants, and attractions seize this opportunity to rejuvenate. They close their doors, undergoing refurbishments to welcome the forthcoming winter tourists with renewed vigor. This means travelers need to plan more meticulously, ensuring that the places they intend to visit are operational.
For solitude seekers, avoiding the Christmas and New Year rush might be a good idea unless the allure of skiing amidst the crowd is too hard to resist. Similarly, if the April-May transitional period doesn't align with your interests, it's best to sidestep this phase.
Rain lovers might find May to August delightful, while those looking to avoid rain should plan their trips around these months.
Essential Switzerland Travel Advice
Here are a few pointers to make your Swiss journey smoother:
Switzerland uses Swiss Francs, not Euros.
Invest in a Universal Power Adapter to cater to Switzerland's varying power outlets.
EU and Schengen-approved country citizens can enjoy a 90-day visa-free stay.
Languages spoken here predominantly include German, French, and Italian.
Train travel in Switzerland is efficient and extensive, covering almost every nook and cranny.
Packing Smart
Summer visitors: Pack light clothes, ample shirts, shorts, a handy jacket, an umbrella, hiking essentials, and warm clothing for higher altitudes.
Winter travelers: Prioritize warm clothing, including gloves, hats, jackets, and skiing gear.
Switzerland Through the Seasons: Making the Choice
With its breathtaking landscapes and diverse offerings, Switzerland promises a unique experience every season. The ultimate decision rests upon what your heart seeks. But no matter when you decide to explore this gem, Switzerland will always captivate you with its timeless charm and leave you with memories that echo its splendor.
Whether you're in for the thrill of scaling heights or the serenity of a lakeside retreat, Switzerland beckons. The best time to respond to its call? Right now.